Shivapuri National Park
National Park established in 2002 with an area of 159 KM2 and buffer Zone 118.61 km2 is located in the north of Kathmandu valley. Shivapuri national park connects Kathmandu (the capital of Nepal) and Langtang trekking trail. In distance, Shivapuri national park is 12 kilometer away from the city is also famous as Shivapuri Watershed and Wildlife Reserve or Nagarjung jungle.
Shivapuri has both subtropical and temperate climates including verities of trees as Chirpine, oak, many types of rhododendron, lower mixed hardwood forests, Schima-Castanopsis and 129 species of mushroom. Park conserves wildlifes such as:- mammalian species such as – Clouded leopard, jungle cat, pangolin Manissp, Assamese monkey Macacaassamensis, leopard cat Prionailurusbengalensis and rhesus monkey, Himalayan black bear Ursusthibetanus, Himalayan goral Naemorhedus goral, jungle cat Felischaus, Himalayan serrow Capricornisthar, wild boar Susscrofa, barking deer Muntiacusmuntjack, sambar deer Cervusunicolor, rhesus monkey Macacamulata, civets, porcupine, yellow throated marten. There are 311 species of birds including 117 migratory birds; at least 9 endangered species. Common species of bird species are white backed vulture, Himalayan griffon, black vulture, beard vulture (Nepali &Suwal, 2007), dark kite, hen harrier, goshawk, sparrow hawk, sikhra, common buzzard, Asian black eagle, steppe eagle (BPP, 1995), magpies, kalij pheasant, leafbirds, flycatcher, bushchat, babblers, cuckoos, bulbul, swift, warblers. Importantly, wren babler Pnoepygapusilla are the endemic birds found in Shivapuri Nagarjun national park. 102 species of butterflies with a number of rare and endangered species has become a case study in the national park.
National park is famous for the day hiking routes like; Shivapuri jungle hike, Nagarjung Monastery day hike, Bagdwar day hike etc. Nagarkot, Gosaikunda, Helambu and Langtang National Park trekking route starts or end with Shivapuri National Park.
Shivapuri national park is a lonely park to represent mid-hill ecosystem of Nepal. It is famous for globally threatened wildlife, birds, and butterflies. Also the people around the park follow Hindu and Buddhist culture to give visitor a combined experience of Aryan and Mongolian culture. National aprk also conserves some famous pilgrimage destinations including NagiGumba, Bagdwar, Bishnudwar, Jamacho as well as ManichurMahadev, Kageshwori, Sundarimai, Baudeshwor, Tarkeshow, PachaliBhairav and smaller destinations. Tourists visit this park for hiking, camping, picnic as well as enjoying adventure tourism activities like rock climbing, cannoning, mountain biking.
Some of the trekking routes in this National Park are as below:
1. Panimuhan-ChhapBhanjyang-Sikre
2. Panimuhan-Baghdwar-Rholche-Chisapani
3. Nagarkot-Jhule-Chisapani
4. Sundarijal-Mulkharka-Chisapani
5. Panimuhan-Nagigumba-Baghdwar-Shivapuri Peak
6. Panimuhan-ChhapBhanjyang-Shivapuri Peak
7. Sundarijal-Manichur-Jhule-Chisapani
8. Tokha-GurjeBhanjyang-GurungGaun
9. Jagat-GurjeBhanjyang-GurungGaun
10. Panimuhan-Bagdwar-Shivapuri Peak
11. Kakani-Gurje-ChhapBhanjyang-Shivapuri Peak
12. Fulbari Gate-Jamacho
1 Day Trip
Nepal is a small country, so day trip means big exploration in Nepal. There are many day tours as best Nepal tour package. For example – day trip to Everest basecamp is famous as "Everest basecamp helicopter landing tour". In this basecamp tour you can explore the best of Nepal which millions of people trek for more than 2 weeks to get there.
By far, day tours have been popular in the cities. Pokhara tour or Kathmandu tour are majorly famous as day sightseeing tours. But there are many new and interesting destinations inside the country, yet to be explored. Kathmandu walking tours are some of the major 1 day activity – trending in Nepal holiday.
Also there are many 1 day hiking destinations in Kathmandu, Pokhara, Lumbini, Chitwan or nearby many other cities of Nepal. These hiking routes are best way to explore Nepal – belter in short time frame. Kathmandu to Everest basecamp helicopter tour is considered as luxury holidays in Nepal, however.
To get the best insight of a day tour – it is recommended to take tour with local guides from local trekking companies or tour agencies in Nepal. Obviously the local folk keep better insights and can show you the hidden gems inside narrow alleys. All the guides in Nepal must be registered in Nepal tourism board and registered guide means trained people.
If you are in Nepal (anywhere) and looking for a day trip nearby – Nepalgram will give you some best options in the location and make sure your get the best experience. Our passionate tour guides and hikers will take you for the best experience in your day tour, hike, adventure or anything you want to experience. For your information – there are many adventure sports nearby cities, which are suitable for day tours in Nepal.
Available through out the year:
Jan
Feb
Mar
Apr
May
Jun
Jul
Aug
Sep
Oct
Nov
Dec
Adventure tours
Rafting, Canyoning, Kayaking, Ultra flight, Mountain biking, Hunting, Heli skiing, Jeep tour.
Cycling in Nepal is one of the famous adventure activities for the foreign tourist whereas the locals have been using cycle for the work. As a poor country there are many people who just afford cycle as their vehicle and do so whereas at the mean time there are huge amount of tourist who love to cycle in the traffic of Kathmandu or in nearby hills of the cities like Pokhara or Kathmandu.
Mountain biking is differently attractive in contract with motorbike tours in Nepali Himalaya trails or in the cities with crowd and randomly urbanized narrow alley.
Famous as mountain biking – cycling has been an adventure over the high passes like Thorong la or larkey la pass. People also cycle to upper mustang, pikey pike trail cycling and Langtang valley as new trails of cycling adventure in Nepal.
Road cycling or cross country – any kind of high altitude or low altitude cycling are famous in Nepal. Tourist who have been on a trekking in the Himalaya and want to cycle in their free time while at the cities like Pokhara and Kathmandu can do cycling trip like Chitlang cycling tour for 2 days, one day cycling in Nagarkot Changunarayan trail, pilot baba ashram cycling tour.
Safety is our concern so when Nepalgram designs a trip we recommend you in the proper trail even if the cycling is cross country type. However, cycling sightseeing tour of cities is beautiful and a unique way of exploring cites of Nepal.
Apart from the multiday cycling, most of the day trip for cycling or Say Mountain biking is trip extension program of multiday sightseeing tourist or trekkers. It is also a fun thing to cycle inside the crowded old city of Kathmandu where you will find wild adventure in-between thousands of people and the crazy crowd.
Available through out the year:
Jan
Feb
Mar
Apr
May
Jun
Jul
Aug
Sep
Oct
Nov
Dec
Glacial lake Trek
Nepal is a Himalayan destination either for tour or trekking. 80 percent of the people traveling to Nepal come for mountain activities, whereas 50 percent of trekking destination in Nepal has Lakes. Most of those lakes are glacial lakes and few are freshwater lake as well. Beauty of lakes on the lap of Nepal Himalaya is flourished with reflection of white peaks on the blue water of those lakes.
Lakes like Gokyo, Rara and Tilicho are very big or close to the snowy peaks to give mirror image on the blue water of lake.
Most of the lakes in Nepal are assumed holy either in relation with god Shiva or Buddha. People who worship nature also pay respect to the lakes as holy place. All the lakes in Nepal have interesting features. Like Gokyo lakes of Everest region is famous for its cascade pattern on 6 different lakes of same valley. The valley is called Gokyo. Tilicho Lake is the highest altitude lake with beautiful mountain reflection on its blue water. Tilicho lies near by Annapurna circuit trek. Another interesting lake is Rara Lake, which can be trekked or people fly on helicopter to get to Rara Lake. Rara Lake is special because it changes its water into 7 different colors in a day. This natural phenomenon is because of its large size and reflection of mountains and skyline. Rara is the largest lake of Nepal.
Lakes in Nepal are in the cities as well. Phewa Lake in Pokhara has made Pokhara a precious place for tourist. This tourist destination of Nepal has beautiful reflection of wide Himalaya range on the water of Phewa Lake.
Apart from above discussed lakes there are 1000s' of lake which are rarely discovered. Some of them are in the famous trekking routes like Annapurna or Everest or Manaslu whereas many of them are still unexplored and few of them are in the restricted trekking routes like Dolpo and Numbur cheese circuit. Naming few other lakes of Nepal are as – Gosaikunda lake, Dudhpokhari lake, Damodar kunda lake, Gangapurna lake, Phoksundo lake, Imja Lake, Chola lake, Ghodaghodi lake, Rupa lake, Begnas lake, Jattapokhari lake, Panchpokhari lake and many other. The list of the named lakes in nepal will be long whereas there are still 1000's of them which are waiting their first visit.
Available through out the year:
Jan
Feb
Mar
Apr
May
Jun
Jul
Aug
Sep
Oct
Nov
Dec
Helicopter Tour
Helicopter tour in Nepal is regarded as a luxury tour where you will join a group for helicopter travel of charter yourself a helicopter to go to different part of the country. By far helicopter tour is famous in few destinations as to Everest basecamp, Annapurna basecamp, Langtang, Nagarkot and Gosaikunda Lake. Another major helicopter tour of Nepal is Helicopter tour to Mansarobar. All these helicopter tours in Nepal are affordable and scenic.
The capital city of Nepal – Kathmandu has view of the snowcapped mountains. With this being stated – when you fly on helicopter to different tour destinations, you will get great view of those mountains – the aerial view.
Most of the Trekking agencies or tour companies in Nepal have at least one helicopter tour as their travel product. Because of this price are fair and affordable. Also the competition among helicopter companies has made Heli tour in Nepal affordable. Some short helicopter tours like Gosaikunda lake helicopter tour is famous among locals as well. However, Everest basecamp helicopter tour is famous among the westerners.
Apart from Helicopter tours – Heli treks has been of great influence among trekkers and climbers, these days. Nepalgram has both helicopter treks as well as heli tours. However, we are still looking for more destinations and best routes for helicopter tours.
Helicopter tours can be a day tour or multiday tour activity. However, 1 day helicopter tour is famous by far.
You can opt for helicopter tour that starts from Pokhara or from Kathmandu. Most of the Annapurna region helicopter tour operates from Pokhara; like – Annapurna basecamp Helicopter tour, mustang or Muktinath helicopter tour etc.. In contrast Everest basecamp helicopter tour, Gokyo lake Helicopter tour, Gosaikunda lake Helicopter tour, Langtang helicopter tour Rara lake helicopter tour etc.. operates from Kathmandu.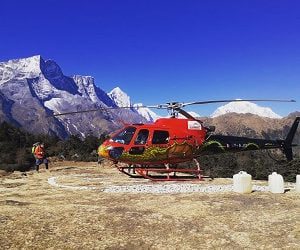 Available through out the year:
Jan
Feb
Mar
Apr
May
Jun
Jul
Aug
Sep
Oct
Nov
Dec
High Pass Trek
Trekking over the high passes of Nepal has given beautiful memory to millions of nature lovers. Just basecamp trekking and few high passes are famous in Nepal but with wider Himalaya range in Nepal new passes like Mardi himal pass trekking are being discovered for those who love high passes trekking in the younger Himalayas of Nepal.
Snowline of Nepal starts from around 5000 meter that is why high passes of Nepal are above this 5k altitude. High passes means trekking through the mountain range to get in other side of the valley. It is basically crossing the range of the Himalaya from the narrow escape where it is accessible the best.
High pass hike are good for many reasons; the best view, circuit trekking trail, adventure, unforeseen condition to create thrill in the trip and many more. High pass of any Himalaya range of Nepal can never be underestimated. But in right time and favored weather conditions all those high passes trekking in any tops had never been issue.
In Everest- 3 high passes trek has been really famous as it nearly covers most of the Everest region including Everest base camp itself. But people love chola pass as it connects Everest base camp with Gokyo ri or the valley of Gokyo with numerous lakes and glacial walk.
Annapurna has famous Annapurna circuit over thorong la pass. Apart from thorong la pass in highlight, there are other trekking passes like Mesokanta pass, Kangla pass and many other. Manaslu and Annapurna are connected by larkey la pass. This pass is considered as one of the new and trending high pass of Nepal. Kang la pas of Narphu, selele pass of Kanchenjunga, saldnag pass of upper Dolpo, Kangla pass of Narphu are few high passes in the restricted region of Nepal.
There are technical high passes like Sherpini col, amapalpcha pass, Rubina la pass and many other – these passes are higher than 6k and connects not only the valley but the different Himalaya range. These high passes involves technical peak climbing as well.
Available through out the year:
Jan
Feb
Mar
Apr
May
Jun
Jul
Aug
Sep
Oct
Nov
Dec
Hiking/Trekking
Trekking is one of the major activities among many things to do in Nepal. Apart from hiking tours, there are many other sightseeing tour options in Nepal. However walking tour is a world admired as hiking to Everest or Annapurna region of Nepal Himalaya are famous around the world.
When someone talks about their holidays in Nepal, all imagine they are going to the mountains and it is all about trekking in the Nepal. Believe it, Everest base camp trek is one of the famous bucket list item.
However our trekking tour category has diversity of trekking trips in Nepal. New destination trek to hiking route finding trips in Nepal, are listed under the tour tag of trekking.
Again, as Nepal is a small country with tallest peak of the world Everest, she is famous among hike lovers & nature hikers. Mountainous terrain of Nepal makes lots of ups and down and hiking here is great adventure. Hike in Nepal starts from the altitude of 1100 meter or 1968 feet to 6500 meters or 21320 feet.
Nepal Hiking Altitude profile in general
Lowest altitude for the hiking is from Besisahar which is the gateway of Annapurna Region treks to Annapurna circuit or manalsu circuit hiking and highest altitude that takes you to the height of 6500 meter or 21320 feet to the famous trekking peak called Mera peak. Mera peak starts in Everest region but the peak is on the other side of Everest Base Camp hiking that is in Makalu Barun conservation area. Very few people go for this trekking peak in the Makalu Barun National park.
Trekking in Nepal is under the bucket list of all most the entire traveler around the world. Nepal is famous for trekking activity. But trip extension like Peak climbing, Rafting, Paragliding, Para Hawking, Kayaking, day tours are famous. Nepal has four seasons. All of them are suitable for any of the activity. But each activity needs to design the itinerary as per the season. For example hiking during monsoon in Nepal needs to be short and starts early for the day, like start early stop early. We have lots of hiking package in numerous trekking region of Nepal for all level of fitness. Hiking in Nepal can be short as 3 days and more than a month long.
Jungle Trekking
Nepal conserves huge area of forest and helps in controlling global warming by cutting carbon production. Greenery in Nepal is conserved in the form of national parks, conservation area, wildlife reserves, community forest, hunting reserves and wetland areas. Trekking in those protected forest is a part of jungle trekking we do in packages of Nepalgram.
Apart from those conserved area there are other auto protected region which can be discovered along the trekking route of remote Himalayas in Nepal. While trekking in the remote trekking destinations of Nepal there are many villages with barren lands and those lands are private but after not farming there for years, these lands are now forest.
Trekking has always been through the jungle, in Nepal. If you want to trek all the time inside the jungle you can choose trekking like Mard himal trek or other new trekking routes. If you want to trek in the dense forest then you have to choose something similar to Jattapokhari camping trek or similar camping treks.
Either you trek to famous Annapurna base camp or Everest region trail – forest trekking is partially available in all the regions. The concern among most of the travelers coming to Nepal is either they will want to be in the jungle for most of time or they just want to experience the jungle trekking partially.
Trekking in Nepal has always been into the nature. And jungle has always been inseparable part of trekking activity. But in few cases, there are some trekking destinations like upper mustang and Upper Dolpo where all you see is deserted landscape. Those trekking trails are rain shadow zone and are not for jungle trekking.
In Nepal, Jungle trekking is not possible when you get above the altitude of 4000 meters. From this height no tree zone starts and all you see is bushes and the towering mountains.
Multi day & Day sightseeing tour
Day tour or multi day tour which involves visiting different landmarks for different architecture, monuments, nature or wildlife is called sightseeing in Nepal. The famous sightseeing tour for Nepal is Kathmandu valley sightseeing tour for a day. Sightseeing tour are either one day tour or combination of many day tours in a compact package which last for more than one day.
Kathmandu, Pokhara, Lumbini, Palpa, Chitwan, Bardiya, Jiri are the famous sightseeing destinations of Nepal. But these are very old and explored like 100 years ago. There are many new places of interest for sightseeing tour which Nepalgram has includes in multiday tour itinerary. Places like Chandragiri hills, Rampur, Bandipur are other beautiful landmarks for sightseeing tour in Nepal.
Tour in Nepal has versatile options from low lands in Terai as Lumbini to high Himalaya's base camps like Everest base camp. Nepalgram has itineraries which includes both Himalayan base camp as well the lower flat sightseeing destinations. This has given travelers a different taste while traveling in South Asia. In the small area of Nepal the mountains and low lands has made this kind of sightseeing tour possible, and because of the size of country these kind of multi-dimensional sightseeing tour doesn't need many days.
A short holiday or a weekend trip to Nepal might sound short but surely there are verities of experience in Nepal. Traveling will not be time consuming as country is small and landlocked, but if the money is not a issue.
Sightseeing tour also includes bird watching, photography tour, religious tours, jeep tours or motor biking in the off roads of Nepal. The versatile land of Nepal has given wilder as well as luxury prospect of travel inside the small boundary for wider sightseeing and exploration. Nepal is small but diversifies which make sightseeing go wider than you imagine.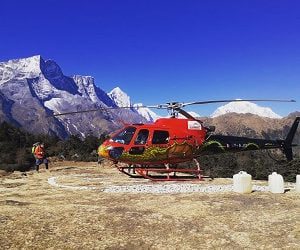 Available through out the year:
Jan
Feb
Mar
Apr
May
Jun
Jul
Aug
Sep
Oct
Nov
Dec
Available through out the year:
Jan
Feb
Mar
Apr
May
Jun
Jul
Aug
Sep
Oct
Nov
Dec
Nature Activities
Bird Watching, National Park tour & Jungle Safari
Nepal is covered mostly with the forest and most of the Nepali settlements are in the hills with abundant forest. So when it comes to safari in Nepali Jungle – you either talk about walking through the jungles or go camping into the wild. Jungle safari in Nepal is the part of regular life in the local peoples in order to fetch wood or graze livestock's.
Like world know jungle safari there are plenty of sites inside Nepal where one can easily find the escape of the city and overwhelming welcome of the nature in the conserved site such as; conservation areas, national parks, wildlife reserves, bird watching area, wetlands and community forests. For example the world famous Jungle safari of Chitwan is done with jeep or elephant.
With new conservation areas and national parks rich in bio diversity and wildlife protection, there are many new sites where people go for jungle safari in Nepal. New conservation area like Gaurishanker conservation area and trending national park like Bardi national park not only conserves the biodiversity but also creates best jungle safari site for tourists in Nepal. Bardia national park has both jeep and elephant safari to see Tiger. This national park is also famous as the tiger conservation area, though its official designation is national park.
Jungle safari in Nepal has been an entire Nepal trip which takes you from one national park to another conservation area or protected area. In most of the cases – people trekking, climbing and doing expedition in Nepali Himalaya go for jungle safari as a part of their trip extension programs.
Most of the jungle safari sites have accommodation and food facility whereas still there are many where you can go wild with your own food and arranged safety. Either of those destinations can be your Nepal holiday part in the safe hands like Nepalgram for best experience and safe adventure.
Available through out the year:
Jan
Feb
Mar
Apr
May
Jun
Jul
Aug
Sep
Oct
Nov
Dec
Rock Climbing
Rock Climbing in Nepal has been a trip extension program for trekking or mountaineering travelers. But there are many people who come Nepal for comfortable sightseeing tours and sign-ups for an adventure of rock climbing before they get back to home.
When you are in the famous cities like in Kathmandu or in Pokhara there are multiple indoor rocks climbing destinations. You will surely see those places busy in the peak season of tour in Nepal. But there are very few natural rock climbing site around the capital city Kathmandu and adventure city Pokhara. But whatsoever, there are few and to find those natural rock climbing sites you have to connect yourself with trekking companies in Nepal or any of the local travel agencies in Nepal.
As Nepal is famous for the towering peaks like tallest Mount Everest herself, climbing destinations are not scares at all. But the interest of rock climbing in Nepal has been replaced by mountaineering. People rather climb the beautiful peaks in Nepal than climbing rocks.
Interestingly there is few rock climbing sites in Everest base camp trekking route itself. At Lukla and at Khumjung there is rock climbing center where you can pay to climb in the fixed rock climbing site. Apart from those commercial sites- the nature has given beautiful climbing sites; if you are freelancer of rock climbing and can conquer the rock with your best technical; then there are surely plenty of site in every step of Nepal Himalaya.
Rock climbing in Nepal comes along with the peak climbing in many of the peaks like Lobuche peak climbing on route to Everest base camp trekking trail, Yala peak climbing in Langtang or Khumbila peak of Everest.
Climbing has always been a broad side of Nepal travels but rock climbing is least explored in Nepal. Or say, rock climbing is shadowed by towering and beautiful peaks of young Himalayas in northern Nepal. But whatever – mad Himalayan honey hunters has made their normal life as a part of adventure rock climbing, which proves there are enough of those rock climbing sites if you would love to do so.
Available through out the year:
Jan
Feb
Mar
Apr
May
Jun
Jul
Aug
Sep
Oct
Nov
Dec