In Nepal there are many conservation area, today we are going to briefly discuss about kanchenjunga conservation area. it is the third protected area located in the Himalayas in the eastern region. Part of the Sacred Himalayan Landscape it is named after Mt. Kanchenjunga (8,586 m), the third-highest mountain in the world.
The protected area lies within Taplejung district and is known for housing eleven mountain peaks whose elevation range above 7,000 m.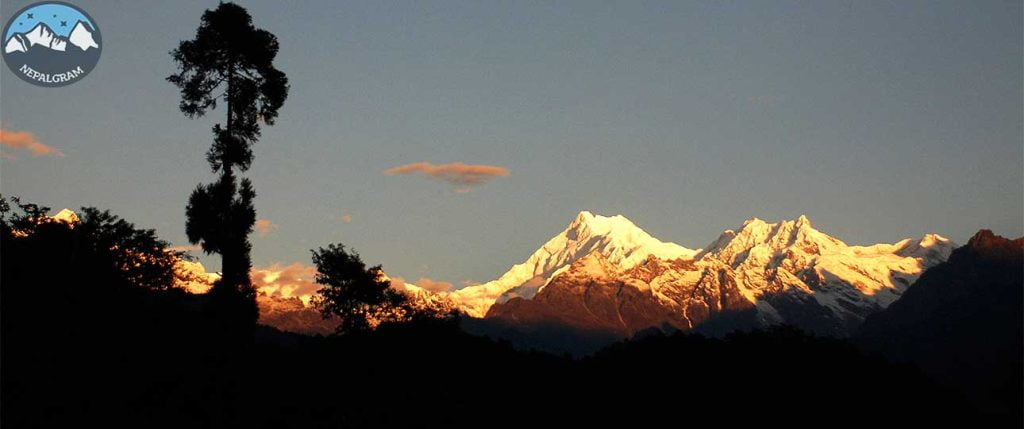 The Kanchenjunga conservation area is located in the eastern region of Nepal. In the north, the protected area shares its international borders with Tibet's Qomolangma National Nature Preserve and in the east with Sikkim's Khangchendzonga National Park. In the west, it is bordered by the Sankhuwasabha district.
The geographical coordinates of the conservation area are 27.7155°N 87.9282°E. The Kanchenjunga region covers an area of 2.035 sq km (786 sq mi) and ranges in altitude between 1,200 – 8,586m.
The protected area is known for three major river valleys; Tamur River Valley, Ghunsa River Valley, and Simbuwa Khola Valley.
Kanchenjunga conservation area can also be reached by flight or via bus from Dharan.
Vegetation of Kanchenjunga Region
The Kanchenchunga Conservation area is covered with thick forests, pastures, river, glaciers, high altitude lakes, and cultivated lands.
The vegetation of the area is classified into five major zones:
Subtropical Evergreen Forest: this type of vegetation is found in the areas ranging between 800-1,200 m. The forests in these areas are covered with evergreen tree species like Castanopsis indica, engelhardtia spicata, and schima wallichii.
Lower Temperate Forest: Better known as the Lower Temperate Mixed Broad leaf Forest, it lies between 1,200-2,500 m. This forest is dominated by broad leaf deciduous trees like rhododendron arboretum, Castanopsis, Quercus, and a few members of the laurel family. Trees of this kind shed their leaves during soaring owing to drought stress.
Upper Temperate Forest: This type of forest lies between 2,500-3,500 of altitude and is also called Temperate Cloud Forest and Upper Temperate Mixed Forest. In these types of the forest, there are deciduous trees like oaks, laurels, maples, and birches that are mixed with evergreen trees like magnolias, firs, rhododendrons, and junipers. The trees in this region are covered with epiphytic plants and mosses that grow due to heavy moisture in this zone.
Sub-alpine Zone: The forest between 3,500 and 3,900 are covered mostly with evergreen conifers along with a few species of cold-hardy deciduous trees. The northern slopes belonging to this zone are covered with fir, juniper, birch, willow, and rhododendron while the southern side has dense stuned rhododendron forests. The Ghunsa Valley is covered with Himalayan larches (Larix griffithiana) that turn golden yellow during fall.
Alpine Zone: The forests above 3,900-4,600 m are covered with roses, rhododendrons, gentian, saxifrange, and stuned junipers.
Wildlife found in Kanchenjunga Conservation Area
The rich forest of the Kanchenjunga serves as essential habitat for over 250 species of birds and several other species of endangered wildlife.
The mammals found in the area are the rare Asian black bear, snow leopard, and Red panda.
Things to do in Kanchenjunga Conservation Area
Enjoy the spectacular view of mountains like Kangbachen (7,902 m), Mt. Kumbakarna (7,710 m), Gimmigela Chuli (7,350 m), and Drohmo Peak (6,881 m) along with Mt Kanchenjunga herself
Visit the Pathibhara Devi Temple
Birdwatching
2 Kanchenjunga Base Camps Trek
Kanchenjunga North Base Camp Trek
Kanchenjunga South Basecamp Trek
Milke Danda Trek
Rafting and Kayaking in the Tamur/Arun river.
Are you looking for other trips than Kanchenjunga Conservation Area?
Nepalgram Adventure can help you with the filter below. Select the right destination and activity of your interest to find the best trip to Nepal.
Kanchenjunga Trekking
Kanchenjunga Trekking is one of the best trekking experiences in Nepal. At 8586m above sea level Kanchenjunga is 3rd highest mountain in the world. One of the valued mountains has still off-beaten trekking trail, so Nepalgram Adventure focuses trekkers in this less explored but stunning part of 3rd highest mountain trail.
Kanchenjunga Conservation Area 2,035 Sq.Km, keep many flora and fauna untouched and helps travelers to explore the first-hand experience on variation of Flora and Fauna inside the conservation area with Sherpa, Tamang, Chhetri, and many other tribes. People living here, who are warm-hearten and generous for trekkers and live in harmony. Their local food, culture, tradition, and respect towards guest are treasure valued here which is the loveliest part of Kanchenjunga Trek
Kanchenjunga Trekking is one of the physically demanding treks in Nepal since we pass high altitude around 5000m during our trekking in this hidden, beautiful, panoramic region of Nepal Himalaya. We start our Kanchenjunga basecamp circuit trekking after driving in a tourist bus or by direct flight to Suketar.
The trekking trail follows, two base camps and one Vanjyang (narrow valley), this signifies the adventure in this trekking. We can organize this basecamp trek as per your need and requirement, please feel free to contact us for further changes in the suggested itinerary Kanchenjunga Trekking.
How exciting is Kanchenjunga Trek?
Trekking in Kanchenjunga offers the view of the most beautiful and attractive Himalayan scenery. You will witness the best views of Mt. Makalu, Mt. Kanchenjunga, and Jahnu Himal. You will also see towering heights of Kabru and Mt. Rothang above a moraine on the Nepal-Sikkim border.
kanchenjunga trek route also passes through Himalayan coniferous forests, alpine shrubs, meadows, and grasslands. The natural beauty you may witness during the trek is mesmerizing! The trekking trail is culturally rewarding. Along the route, you will encounter mixed cultures, ethnic communities, and tribes which is the most exciting part of the kanchenjunga trekking tour.
This is a tea house trek is a combination of the camp trekking and makes a circuit trail. We sleep in the tea house.
How to reach the Kanchenjunga Conservation Area?
You can catch a direct flight from Kathmandu to Suketar. Tourists who wish to travel by road must catch a bus from Kathmandu to Birtamode. From Birtamode you have to pass Ilam and Phidim along the way to reach Taplejung Bazaar finally.The protected area can also be reached via bus from Dharan.
More destination from Nepal
Explore Nepal with us – to the deep in those nook and corners of Nepal Himalaya. Suggestions other than Kanchenjunga Conservation Area.