Helicopter Tour
Helicopter tour in Nepal is regarded as a luxury tour where you will join a group for helicopter travel of charter yourself a helicopter to go to different part of the country. By far helicopter tour is famous in few destinations as to Everest basecamp, Annapurna basecamp, Langtang, Nagarkot and Gosaikunda Lake. Another major helicopter tour of Nepal is Helicopter tour to Mansarobar. All these helicopter tours in Nepal are affordable and scenic.
Variation, Famous & Selected Helicopter Tour are – Langtang Trek with Helicopter Return/ Everest Basecamp Helicopter Landing Day Tour/ Everest Nepal Luxury Tour/
The capital city of Nepal – Kathmandu has view of the snowcapped mountains. With this being stated – when you fly on helicopter to different tour destinations, you will get great view of those mountains – the aerial view.
Most of the Trekking agencies or tour companies in Nepal have at least one helicopter tour as their travel product. Because of this price are fair and affordable. Also the competition among helicopter companies has made Heli tour in Nepal affordable. Some short helicopter tours like Gosaikunda lake helicopter tour is famous among locals as well. However, Everest basecamp helicopter tour is famous among the westerners.
Apart from Helicopter tours – Heli treks has been of great influence among trekkers and climbers, these days. Nepalgram has both helicopter treks as well as heli tours. However, we are still looking for more destinations and best routes for helicopter tours.
Helicopter tours can be a day tour or multiday tour activity. However, 1 day helicopter tour is famous by far.
You can opt for helicopter tour that starts from Pokhara or from Kathmandu. Most of the Annapurna region helicopter tour operates from Pokhara; like – Annapurna basecamp Helicopter tour, mustang or Muktinath helicopter tour etc.. In contrast Everest basecamp helicopter tour, Gokyo lake Helicopter tour, Gosaikunda lake Helicopter tour, Langtang helicopter tour Rara lake helicopter tour etc.. operates from Kathmandu.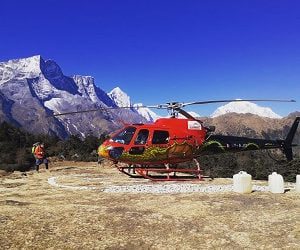 Available through out the year:
Jan
Feb
Mar
Apr
May
Jun
Jul
Aug
Sep
Oct
Nov
Dec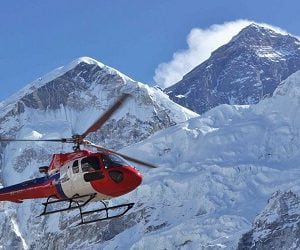 Available through out the year:
Jan
Feb
Mar
Apr
May
Jun
Jul
Aug
Sep
Oct
Nov
Dec
Available through out the year:
Jan
Feb
Mar
Apr
May
Jun
Jul
Aug
Sep
Oct
Nov
Dec