Annapurna Base Camp
Annapurna Base Camp at 4130 meter/13546 feet is unique and incredibly spectacular, set with the ring of majestic peaks of Annapurna I (8091 m), Annapurna South (7219 m), Machapuchhre (6993 m) and Hiunchuli (6441 m) – very close in the site. The famous Annapurna Base Camp Trek takes 4 to 12 days, depending on your itinerary and length of walking days. However, Annapurna base camp in 4 days, 7 days, 10 days and 12 days are famous trekking itineraries.
Variation, Famous & Selected treks in Annapurna base-camp region are – ABC Trek / ABC Heli Trek/ Short ABC Trek/
Annapurna base camp is situated in Myagdi district of Nepal 40 km directly north of Pokhara, geographically into the dead end. The only entrance to this magical place is a narrow valley between the Mountains- Hiunchuli and Machhapuchhre, from here run-off from glaciers drain into Modi River. However if you can cross these massif mountains there you will get to the trail of Annapurna circuit on the other side at Manang District of Nepal.
Annapurna base camp weather varies according to the season as Nepal has 4 main seasons. Among all winter trekking to ABC is regarded as difficult but still people trek in winter accepting it as an winter challenge.
jungles of rhododendron and bamboo, 360 degree view of the mountains, admiring glacier and the river valley has been attracting trekkers in the region from 1970s' and for expedition – even before that. Nature, wildlife and the mountains of Annapurna base camp is being conserved by a committee as Annapurna conservation area.
Interestingly this mountains periphery is famous as hiding place of Nagas, rulers from India in the past. It has been believed that – those Nagas has lef treasures in the area. But culturally – at the present – this region is regarded as holy mountains and thus the locals believe eating meat and butchering in the area might cause serious damage, hence meat is prohibited. However, Mt fishtail or Machhapuchhre is sacred mountains of the region and even the Nepal government recognizes it as a holy mountains and do not permit expedition.
Entrance permit is required for Annapurna Conservation Area Project (ACAP) which can be bought at the entrance or with trekking agencies in Nepal or at NTB at Kathmandu and Pokhara. You can get to the trekking starting point by bus which is not convenient as most of the buses pass along the highway and if you miss the right place to drop off the bus it might be hassle. Or you can take local jeep or local bus to Birethati from Pokhara. To get to Pokhara from Kathmandu you can either take plane for 20 minutes flight or take bus for 8 hours. But land transportation there are few options to get to Pokhara as – local bust, tourist bus, micro bus or obviously car. Tourist buses are preferred by far.
Heli hiking
Heli trek in Nepal is a famous and trending tour activity in Nepal. Helicopter trek package means, trekkers will walk to the certain destination and return by helicopter from that final destination. Or trekkers start trekking after helicopter flight to the trek start point.
For example Everest base camp helicopter trek ends with helicopter ride to Kathmandu or Lukla whereas; in Gosaikunda helicopter trek we fly on helicopter to the Gosaikunda Lake. For Annapurna circuit heli trekking, people fly from Muktinath to Pokhara by helicopter, after trekking over thorong la pass.
Variation, Famous & Selected Heli hiking are – Langtang Trek with Helicopter Return/ Honeymoon Heli Trek to Everest Basecamp/ Annapurna Circuit Heli Trek/ Annapurna Basecamp Heli Trek/
Helicopter trekking tour is a best holiday package in Nepal. The scenery of helicopter ride above the stunning landscape is awesome. Trekking to the destinations with aerial view, very close to the nature is beautiful. Nepalgram has best value and affordable heli trips in Nepal. For example Everest basecamp or Annapurna base camp heli trek and Langtang helicopter trekking are our best value products.
Less visited destinations like Rara Lake are new things to do by helicopter, in Nepal.
By far, helicopter tour has been loved by old aged people, short vacation, honeymooning in Nepal, surprise presents to dear ones and family trip. But helicopter trekking is the best way to see Himalayan landscape from the ground as well as on the air. People from either of age group assign for Helicopter trekking.
Highlights of helicopter trekking
Helicopter trip in Nepal is not a cheap adventure activity but a best way of exploring Nepal. To Fly over the mountains of Nepal is not just beautiful but heart rendering moment of your once in a lifetime experience.
• You will save time with money
• Less physical stress
• Trekking can be done with medium level fitness level
• Both ground view and aerial view of the region can be collected
• It is a lavish way of traveling
• Helicopter trek includes both trekking as well as tour activity.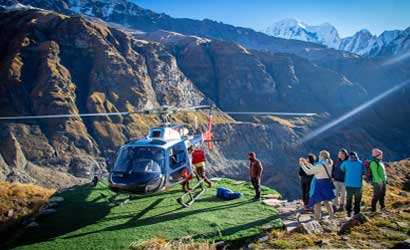 Available through out the year:
Jan
Feb
Mar
Apr
May
Jun
Jul
Aug
Sep
Oct
Nov
Dec
Hiking/Trekking
Trekking is one of the major activities among many things to do in Nepal. Apart from hiking tours, there are many other sightseeing tour options in Nepal. However walking tour is a world admired as hiking to Everest or Annapurna region of Nepal Himalaya are famous around the world.
When someone talks about their holidays in Nepal, all imagine they are going to the mountains and it is all about trekking in the Nepal. Believe it, Everest base camp trek is one of the famous bucket list item.
Variation, Famous & Selected Hiking/Trekking  are – Ghorepani Ghandruk Hike/ Chisapani Nagarkot Hike/ Tilicho Trek/ Gokyo Renjola Circuit Trek/ Dhampus Peak/ PoonHill Hike/ Helambu Hike/ Gokyo Ri Hike/ Ghandruk Hike/ Tamang Heritage Hike/ Mardi Hike/ Phari Lapcha Climbing/ Langtang Hike/ Gosaikunda Hike/ ABC Hike/ Namche Trek/ Langtang Trek with Helicopter/ Short EBC kalapatthar Trek/ Manaslu trek to samagaun/ EBC camping trek/ Everest spiritual trek/ Limi Valley Trek/ Bhimtang Trek/ Champadevi Hike/ Nagarjun Hike & Rock Climbing/ Changunarayan Nagarkot Hike/ Adventure Tour/ Amadablam Expedition/ Larkey Climbing/ Island peak with EBC/ Short Mera Peak/ Mera Peak/ Mardi Himal Peak/ Lobuche after EBC Trek/ Island Peak with EBC Gokyo Trek/ Upper Mustang Trek/ Upper Dolpo Camping Trek/ Tsum Valley Trek/ Tamang Heritage Trek/ Short ABC Trek/ Round Annapurna Trek/ Rolwaling Tasi Lapcha Trek/ Rara Lake Trek/ Poon Hill Trekking Tour/ Poon Hill Trek/ Phoksundo Lake Trek/ Phaplu EBC Trek/ Panchase Trek/ Numbur Chesse Circuit Trek/ Nar Phu Trek/ Mardi Himal Trek/ Manaslu Tsum Valley Trek/ Manaslu Cultural Circuit Trek/ Makalu Base Camp Trek/ Langtang Ganjala pass Trek/Langtang Valley Trek/ Langtang Gosaikunda Trek/ Langtang Circuit trek/ Khopra Danda Trek/ Kanchenjunga Trek/ Jomsom Muktinath Trek/ Jiri Gokyo EBC Trek/ Honeymoon Heli Trek to EBC/ Helambu Trek/ Helambu Gosaikunda Trek/ Gosaikunda Trek/ Gokyo Ri Trek/ Poonhill Ghandruk Village Trek/ Ghorepani Ghandruk Trek/ Ganesh Himal Trek/ Everest Three Passes Trek/ EBC Chola Pass Gokyo Ri Trek/ EBC Chola Pass Gokyo Trek/ EBC Trekking Tour/ EBC Arun Valley Trek/ Manaslu trek/ Dudh Kunda Trek/ Dhaulagiri Trek/ Langtang Valley Circuit Trek/ Chisapani Nagarkot Trek/ Annapurna Circuit Tilicho Trek/ Annapurna Circuit Trek/ Annapurna 2 high passes Trek/ Everest Base Camp Trek/
However our trekking tour category has diversity of trekking trips in Nepal. New destination trek to hiking route finding trips in Nepal, are listed under the tour tag of trekking.
Again, as Nepal is a small country with tallest peak of the world Everest, she is famous among hike lovers & nature hikers. Mountainous terrain of Nepal makes lots of ups and down and hiking here is great adventure. Hike in Nepal starts from the altitude of 1100 meter or 1968 feet to 6500 meters or 21320 feet.
Nepal Hiking Altitude profile in general
Lowest altitude for the hiking is from Besisahar which is the gateway of Annapurna Region treks to Annapurna circuit or manalsu circuit hiking and highest altitude that takes you to the height of 6500 meter or 21320 feet to the famous trekking peak called Mera peak. Mera peak starts in Everest region but the peak is on the other side of Everest Base Camp hiking that is in Makalu Barun conservation area. Very few people go for this trekking peak in the Makalu Barun National park.
Trekking in Nepal is under the bucket list of all most the entire traveler around the world. Nepal is famous for trekking activity. But trip extension like Peak climbing, Rafting, Paragliding, Para Hawking, Kayaking, day tours are famous. Nepal has four seasons. All of them are suitable for any of the activity. But each activity needs to design the itinerary as per the season. For example hiking during monsoon in Nepal needs to be short and starts early for the day, like start early stop early. We have lots of hiking package in numerous trekking region of Nepal for all level of fitness. Hiking in Nepal can be short as 3 days and more than a month long.
Jungle Trekking
Available through out the year:
Jan
Feb
Mar
Apr
May
Jun
Jul
Aug
Sep
Oct
Nov
Dec
Available through out the year:
Jan
Feb
Mar
Apr
May
Jun
Jul
Aug
Sep
Oct
Nov
Dec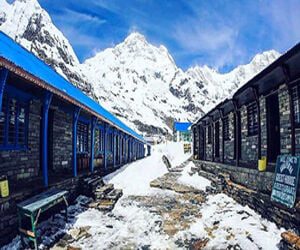 Available through out the year:
Jan
Feb
Mar
Apr
May
Jun
Jul
Aug
Sep
Oct
Nov
Dec
Nature Activities
Available through out the year:
Jan
Feb
Mar
Apr
May
Jun
Jul
Aug
Sep
Oct
Nov
Dec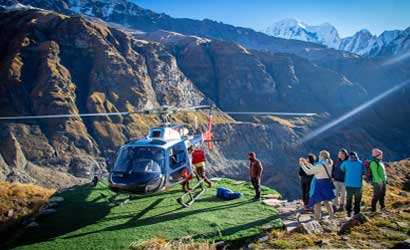 Available through out the year:
Jan
Feb
Mar
Apr
May
Jun
Jul
Aug
Sep
Oct
Nov
Dec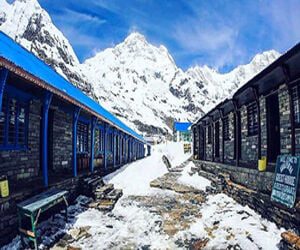 Available through out the year:
Jan
Feb
Mar
Apr
May
Jun
Jul
Aug
Sep
Oct
Nov
Dec
Peak Climbing / Mountain Climbing / Expedition
Available through out the year:
Jan
Feb
Mar
Apr
May
Jun
Jul
Aug
Sep
Oct
Nov
Dec
Technical Peak Climbing
Climbing in Nepal has been a dignified adventure activity by then. Nepal climbing peaks are generally the first thing that comes in mind of people travelling to Nepal. Among thousands of peaks in Nepal, there are different types of peaks – trekking peak, technical peak, expedition peak and training peaks. Technical peak climbing is not an expedition but is considered as hard peak to climb.
Variation, Famous & Selected Technical Peak Climbing – Chulu East peak climbing/ Amadablam Expedition/ Chulu West Peak Climbing/ TharpuChuli Peak Climbing/ Lobuche peak climb after EBC Trek/
Technical peak climbing needs skills about rope climbing. If you are used to rock climbing – technical peak will not be an issue. Even if you are climbing first time in the snow peaks of our technical peak climbing packages – general knowledge about climbing gears, use of harness, use of rope, simple knowledge on carabineer and safety measure knowledge is appreciated.
Nepal climbing adventure is summoned in technical peak climbing packages. Your enthusiasm and endurance while climbing is always mandatory – however, our expert guides and climbing team will always be there to help you for the necessary pull up or climb downs. Technical ice climbing is a part of Nepal peak adventure that you are looking for.
For easy example – Mt Amadablam (6812 meters) is regarded as the technical peak climbing. Climbing below 7000 meters is always regarded as peak climbing but many call Amadablam peak climbing as an expedition as well. This is just because of its technical difficulty. Technically Amadablam peak climbing is tougher than Everest expedition itself.
Indeed, some of the renowned & easy peaks like Island peak, Lobuche peak, Taboche peak, Nayakang peak can also be technical peaks with respect to the season of climbing. Climbing these peaks in winter is a challenge and hence considered as technical peaks respective to the climbing season. However, these peaks are considered as an easy peaks in spring season (spring is regarded as best time for mountaineering in Nepal).
Available through out the year:
Jan
Feb
Mar
Apr
May
Jun
Jul
Aug
Sep
Oct
Nov
Dec