Glacial lake Trek
Nepal is a Himalayan destination either for tour or trekking. 80 percent of the people traveling to Nepal come for mountain activities, whereas 50 percent of trekking destination in Nepal has Lakes. Most of those lakes are glacial lakes and few are freshwater lake as well. Beauty of lakes on the lap of Nepal Himalaya is flourished with reflection of white peaks on the blue water of those lakes.
Variation, Famous & Selected Glacial Lake Trek  are – Tilicho Base Camp Trek/ Gokyo Renjola pass Circuit Trek/ Gokyo Ri Hike/ Gosaikunda Hike / Short EBC Kalapatthar Trek/ Manaslu base camp trek to Samagaun/ Everest base camp camping trek/ Limi Valley Trek/ Manaslu View Bhimtang Valley Trek/ Amadablam Expedition/ Island Peak Climbing with EBC Trek/ Island Peak Climbing with EBC Gokyo Trek/ Upper Dolpo Camping Trek/ Round Annapurna Trek/ Rolwaling Valley Tasi Lapcha pass Trek/ Rara Lake Trek/ Phoksundo Lake Trek/ Numbur Chesse Circuit Trek/ Manaslu Tsum Valley Trek/ Langtang Ganjala Pass Trek/ Langtang Gosaikunda Trek/ Langtang Circuit Trek/ Khopra Danda Trek/  Kanchenjunga Trek/ Gosaikunda Trek/ Gokyo Ri Trek/ Everest Three High Passes Trek/ EBC Chola pass Gokyo Ri Trek/ EBC chola pass Gokyo Trek/ EBC Trekking Tour/ EBC Arun Valley Trek/ Manaslu Trek/ Dudh Kunda Trek/ Dhaulagiri Trek/ Annapurna Circuit Tilicho Trek/ Annapurna 2 High Passes Trek/
Lakes like Gokyo, Rara and Tilicho are very big or close to the snowy peaks to give mirror image on the blue water of lake.
Most of the lakes in Nepal are assumed holy either in relation with god Shiva or Buddha. People who worship nature also pay respect to the lakes as holy place. All the lakes in Nepal have interesting features. Like Gokyo lakes of Everest region is famous for its cascade pattern on 6 different lakes of same valley. The valley is called Gokyo. Tilicho Lake is the highest altitude lake with beautiful mountain reflection on its blue water. Tilicho lies near by Annapurna circuit trek. Another interesting lake is Rara Lake, which can be trekked or people fly on helicopter to get to Rara Lake. Rara Lake is special because it changes its water into 7 different colors in a day. This natural phenomenon is because of its large size and reflection of mountains and skyline. Rara is the largest lake of Nepal.
Lakes in Nepal are in the cities as well. Phewa Lake in Pokhara has made Pokhara a precious place for tourist. This tourist destination of Nepal has beautiful reflection of wide Himalaya range on the water of Phewa Lake.
Apart from above discussed lakes there are 1000s' of lake which are rarely discovered. Some of them are in the famous trekking routes like Annapurna or Everest or Manaslu whereas many of them are still unexplored and few of them are in the restricted trekking routes like Dolpo and Numbur cheese circuit. Naming few other lakes of Nepal are as – Gosaikunda lake, Dudhpokhari lake, Damodar kunda lake, Gangapurna lake, Phoksundo lake, Imja Lake, Chola lake, Ghodaghodi lake, Rupa lake, Begnas lake, Jattapokhari lake, Panchpokhari lake and many other. The list of the named lakes in nepal will be long whereas there are still 1000's of them which are waiting their first visit.
Available through out the year:
Jan
Feb
Mar
Apr
May
Jun
Jul
Aug
Sep
Oct
Nov
Dec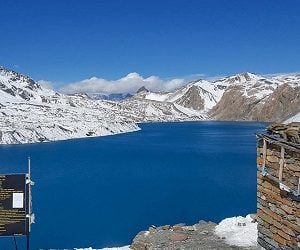 Available through out the year:
Jan
Feb
Mar
Apr
May
Jun
Jul
Aug
Sep
Oct
Nov
Dec
Available through out the year:
Jan
Feb
Mar
Apr
May
Jun
Jul
Aug
Sep
Oct
Nov
Dec
Available through out the year:
Jan
Feb
Mar
Apr
May
Jun
Jul
Aug
Sep
Oct
Nov
Dec
Available through out the year:
Jan
Feb
Mar
Apr
May
Jun
Jul
Aug
Sep
Oct
Nov
Dec
Available through out the year:
Jan
Feb
Mar
Apr
May
Jun
Jul
Aug
Sep
Oct
Nov
Dec
Available through out the year:
Jan
Feb
Mar
Apr
May
Jun
Jul
Aug
Sep
Oct
Nov
Dec
Available through out the year:
Jan
Feb
Mar
Apr
May
Jun
Jul
Aug
Sep
Oct
Nov
Dec
Available through out the year:
Jan
Feb
Mar
Apr
May
Jun
Jul
Aug
Sep
Oct
Nov
Dec
Available through out the year:
Jan
Feb
Mar
Apr
May
Jun
Jul
Aug
Sep
Oct
Nov
Dec